No-Maintenance Animal Housing
We have been raising animals for many years, so we know what they like and what keeps them safe. We also know what makes taking care of them easier! We design and build all of our hutches right here in Virginia, so there's no middle man. Every outdoor hutch we sell is made with weatherproof wood, so you never have to paint them, but they have chew-proof blind corners on the inside to keep animals from eating the walls. There are no attached wooden floors, so you don't have to scoop or scrape them out. As you can see, we think maintenance is something to avoid if possible. Our hutches are built to last: we use 25-year shingles on the roofs, and 14-gauge wire on the floors, which is very thick and comfortable for the animals' feet. We have divided styles for keeping animals separated, and hutches with sliding trays underneath, so you can put them on a porch or deck. With so many styles to choose from, you are sure to find something both you and your animals will like! However, if you want something truly unique, we are happy to work with you on a custom design and build a hutch to your specifications. All hutches can be picked up at our Virginia farm, or we will deliver and unload any hutch smaller than 4' x 4' for $2 per mile one way, and there is a $20 minimum. For hutches that are 4' x 4' or larger, the charge is $3.50 per mile one way, (because we must bring four people to unload it, instead of two) and the minimum charge is $35. If you can pre-arrange to have two people waiting to help unload it, the charge will be $2 per mile one way.
If you have further questions, would like a price on a custom hutch, or want to place an order, please call us: (804) 556-3377
Bunny Hutches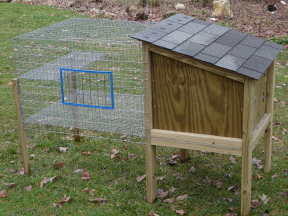 Bunny Hutches With Barns 2.5' x 5' $239 3' x 5' $299 This is one of our most popular hutch styles. Plenty of room for a large breed or even two or three bunnies, it has a large enclosed barn for privacy and weather protection, as well as an outdoor run with a balcony where your pet can get out and enjoy the fresh air. The entire floor is commercial-grade galvanized wire, which allows all of the waste to drop through to the ground, keeping the rabbit's feet dry and comfy. All your rabbit needs to thrive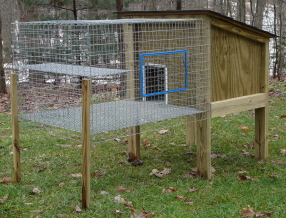 in our mild Virginia Winters is a solid board to sit on to keep the wind off its stomach. This hutch is extremely sturdy, totally weatherproof, and built to last a lifetime! There is a wooden door on the back of the barn, plus a wire door in your choice of location and trim color (the top or either side, and red, blue, or purple) on the wire run. The opening between the two sections is rimmed with metal so it can't be chewed, and the corners on the inside are all chew-proof blind corners. The two sections can come apart for ease of transport, in case you don't drive a pickup truck. We can add a ramp door or other accessories, such as a feeder, water bottle, floor mats, sit boards, or even a bunny!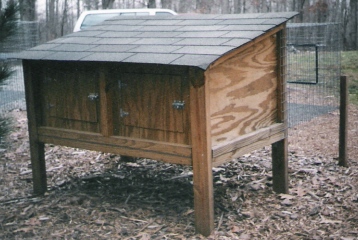 Double Hutch $395 This hutch is divided down the middle in both the barn and wire run areas, so the two animals can see one another, but each has its own living space with an enclosed barn and a wire run with a balcony. It is just like having two of our 2.5' x 5' hutches side-by-side: the same chewproof construction, quality materials, and available options. Perfect for a breeding pair, two bunnies who don't get along, etc. We can ramp doors, feeders, water bottles, floor mats, or other accessories.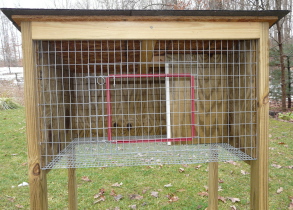 Tall Bunny Hutches 2' x 3' $155 2' x 4' $201 2' x 4' Divided Double Hutch $229 Here is our basic bunny hutch, big enough for one or two rabbits. An excellent hutch at a fabulous price, and it's 100% weatherproof, unlike some "bargain" hutches you see in pet stores. No painting or staining required! All of the inside corners are chew-proof blind corners. The floor is made from 14-gauge galvanized wire, so all the droppings will fall right through, and you won't have to clean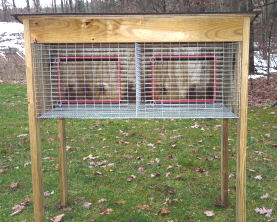 the hutch out! The top photo shows the 2' x 3' hutch with the bedroom panel option ($16 extra). The wooden panel is trimmed all the way up with metal, so the bunny can't chew it. This option provides more privacy, as well as protection from inclement weather. If you want to keep the hutch on a deck or porch, the 2' x 3' model can come with a slide-out plastic tray underneath for $69 more. The divided double hutch (lower picture) has a partition down the middle, and two doors. The doors on any hutch come in your choice of color (red, blue, or purple). We can also add extras such as water bottles (see "Bunny Hutch Accessories", below).
Bunny Hutch Accessories
| | |
| --- | --- |
| Top-Fill Bottle $9.75 These are the best water bottles we have found. They work with a spring shut-off valve, not a leaky vacuum, so they don't backflush or constantly drip. Very easy to thaw in freezing weather, due to the short drinking stem. Attaches to the cage or hutch very securely, using the included spring and stand. The top flips up or screws off, whichever you prefer. Large 32-ounce capacity with ounce markings. | Automatic Feeder $15.00 Handy 7"-wide feeders hold several day's worth of pellets, making weekend trips less of a hassle. They have perforations on the bottom so the dust, or "fines" will sift out. If the feeder is purchased at the same time as a hutch, we will install the feeder at no extra charge. If purchased separately, we will provide you with mounting hardware and easy instructions. |
| Balcony $8.00 Bunnies love to be up high; it gives them a better view of their surroundings. Leaping also provides them with better exercise than just hopping around their cages. Many of our outdoor hutches come with balconies included, but we can also make one to custom-fit a hutch or indoor cage you already have. | Ramp Door $12.00 to $19.00 If you have placed your hutch in a playpen or fenced yard, these fold-down doors provide bunny with easy access to his food and water, or passage to his "room" to take a nap. Galvanized, 14-gauge wire in a tight pattern insures that this ramp is durable and comfortable to walk on. |
| Pet-icure Tile $4.25 Place in a high-traffic area of the rabbit hutch to help keep Bunny's nails blunt. Especially good for outdoor rabbits because they can lie on it to stay cool in the Summer. 11.5" x 11.5". | Sit Board $2.00 Outdoor rabbits need something solid to sit on in cold weather, to keep their stomachs warm. These wooden boards are untreated, and therefore safe to gnaw on. Don't place it in a corner, because the bunny might use it as a bathroom. |
| Dog Guard $15.00 to $32.00 An extra layer of wire, below the original floor, to prevent dogs or other wild animals from injuring the rabbit's feet. Sizes & prices vary, depending on the model of hutch you own. | Accessory Package $27.00 For any of our rabbit hutches. Includes an installed automatic feeder, a top-filling water bottle, a wooden sit board, and a chew block. |
For more bunny supplies, click here.
Poultry Coops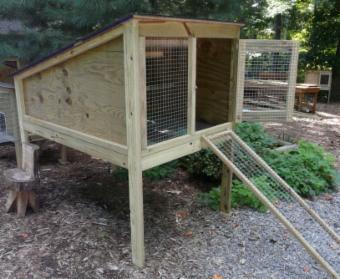 All-in-One Poultry Coops 4' x 4' $526 4' x 6' $593 These houses come with three nest boxes and two roost poles already installed, so they're all ready to keep your flock safe!There is space for 4 to 8 full-size birds or 6 to 12 bantams, or we can add a third roost pole to the 6-foot deep hutch, making it big enough for 6 to 12 full-size birds or 9 to 18 bantams. We usually like to place the coop inside a large pen and let the birds out during the day. At dusk they will all go inside and you can close and latch the door, making the hutch completely safe from predators. The 4-foot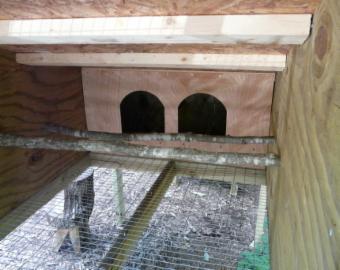 deep coop comes with two interior feeders already installed (a large one for food, and a smaller one for grit). The shingles are 25-year rated, and all of the wood is weatherproof, so there is no painting or staining necessary. And our hutches are designed so that the waste will drop through the galvanized wire floor, no scooping required! There is a large door on the front for the birds to go in and out, and also a door on the back so you can gather the eggs. Your hens will thrive and even lay eggs during our mild Virginia Winters, as long as you provide them with extra light. We also have ladders and other extras available (see "Poultry Coop Accessories", below).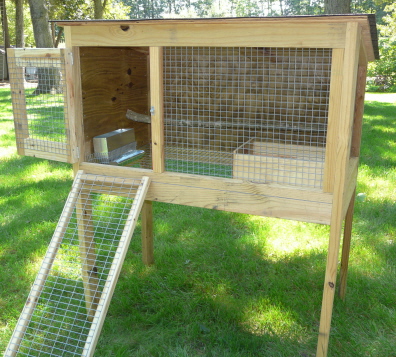 Poultry Safehouses 2' x 3' $183 2.5' x 4' $321 4' x 4' $436 4' x 8' $684
These portable safehouses make an ideal predator-proof roosting spot for full-size chickens, bantams, and guineas, but we have also outfitted them for ducks, pigeons, quail, etc. The shingles are 25-year rated, and the wood is all weatherproof, so there is no painting or staining necessary. Our hutches are designed so that the waste will drop through the floor, eliminating the need to scoop or scrape them out. The wire floors and fronts keep out wild animals while ensuring adequate ventilation, which is a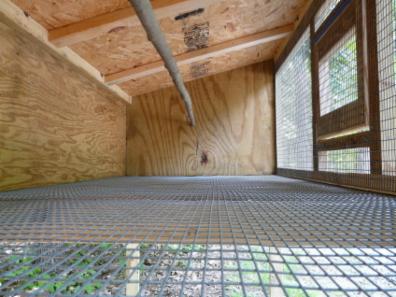 major problem with enclosed coops and coops with wooden floors. As long as you face the open side in the correct direction (we can help you determine this), the wind will come from the rear and the birds stay warm and protected. We usually like to let the hens roam around in a pen during the day, and at dusk the birds will all go inside the coop so you can close and latch the door to keep your flock safe from predators. The 8-foot wide house comes with a roost pole pre-installed. The 3- and 4-foot wide hutches are priced without any accessories. See "Poultry Coop Accessories, below.
Laying Units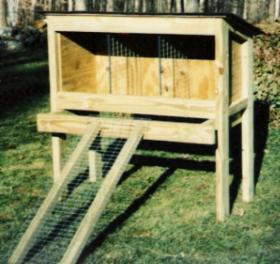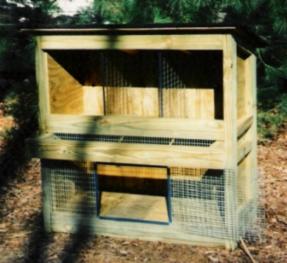 3-Bay Laying House $155 3-Bay Layer with Cage $229
If you have a large flock, or just want to give the birds more room in the coop, you might want to consider an outdoor nesting unit. They are made of the same quality materials as all of our other housing units, keeping with our philosophy that "maintenance" is a dirty word. The eggs will stay out of the mud and dirt, and be at an easy height to reach. The basic unit provides a spot for your hens to lay their eggs. The layer/feeding station in the middle comes with a walled section underneath the nests that houses an included 12-lb. capacity feeder to keep the feed clean and dry. And the cage below the egg bays shown on the right is made from a tight, snake-proof pattern of galvanized wire, so it's perfect for brooding out young birds, putting a bad chicken in "time-out", or keeping a setting hen safe.
Poultry Coop Accessories
Ladder $15.00 - $17.00

These ladders are made from copper-treated lumber or Eastern Red Cedar and galvanized wire. They come in a variety of lengths, from 42" to 62" (custom orders are welcome). Lean them against laying boxes or coop entries to give the birds easy access. When dusk comes, the hens will march up the ladder and put themselves to bed.

Roost Pole $12.00

These natural wooden poles provide a comfortable roosting spot that chickens prefer over wooden dowels or milled lumber. We will gladly install a roost pole in any of our coops at the time of purchase at no charge for installation, or you can order one the length you need and install it in your coop at home.

Nesting Boxes

Fill these boxes with nesting material (straw, hay, or pine needles), add a few golf balls or wooden eggs (just to set the tone), and place them in your safehouse. The single box will be sufficient for 4 or fewer birds, while the double will service up to eight. If you have a small coop or a lot of birds, you might want to consider our freestanding laying units, above.

Single $12.00 Double $18.00

Grit and Oyster Shell

All birds need access to grit (small rocks) to grind up the food they eat, because they don't have stomachs. The granite grit that we carry comes in three sizes: for chicks (1 to 8 weeks of age), growing birds (8 to 15 weeks), or adults (15 weeks and up). Chick grit is best sprinkled over the feed like salt, but as the birds age you should offer the grit free-choice in a separate feeder (they don't eat very much, and will regulate themselves). Oyster shell is a natural form of calcium that you should give to your hens if you notice any thin, easily broken egg shells (do not offer to birds younger than 5 months).

2 lbs. $2.00 50 lbs. $12.50

Bin Feeders

Bin feeders can be secured in any of our poultry houses with no extra charge for installation, or you can take one home and install it yourself. They are unperforated, just right to hold mash, crumble, or pellet, and they come in two sizes. The 11" size holds about 5 pounds of feed, which will feed 10 birds for about 2 days, depending on size, breed, and age. The 3" size is an okay feeder for micro flocks, or fill it with grit or oyster shell for a larger flock.

11" $15.00 3" $13.50

Double Feeder (shown) $27.00

Hanging Feeders

These large-capacity feeders can be hung in your coop to help keep the feed clean and litter-free. Make sure that the bottom of the feeder is no more than shoulder-height for your shortest bird. Keep it out of the weather, as the lids are not designed to keep the feed dry, only to keep the hens from roosting on top of the feeder.

12 lb. Capacity $17.75 30 lb. $22.50

40 lb. $27.50 Lid for Any Size $4.25

One-Gallon Waterer $5.75

A good waterer at an excellent price. One gallon is about a day's worth of water for 6 hens, but obviously you wouldn't have to fill a larger one as often.




Top-Filling Waterers

A good choice for large numbers of birds. These quality waterers will last for a long time. The jar and base separate for ease of cleaning.

3-Gallon $33.75 5-Gallon $39.75

7-Gallon $46.75

Brooding Cages $39.00

You can brood chicks in a cardboard box and compost it when you're through, but if you want something a bit sturdier, these 18" X 30" cages are a wise choice. They have a generous, top-opening latchable door to thwart escapes, and can be placed in a mortar tub to prevent spills. Also good as a travel/transport cage, or a place to put sick or unruly birds.

Light Bulb Adapter $3.75

Plug these adapters into an extension cord and screw in a light bulb for brooding out chicks. Or use in your henhouse to give the birds 16 hours of light every day. This prompts the hens to lay more eggs in the Winter.

Quart Jars & Bases

This versatile feeding and watering system is inexpensive and easy to use. The waterer bases come in a small chick size, which is small enough so the chicks can't drown, and a larger base that makes it easier for growing birds to drink. The feeder base snaps apart for easy cleaning. The quart jars fit all three bases.

Quart Jar Only $2.00

Feeder Base $3.75

Either Waterer Base $2.00

12" Chick Feeders $3.75

These heavy-duty metal feeders will last through many clutches of chicks. This is what we use to hold chick starter. The lids slide off to fill the feeders, and keep the chicks from scratching through the feed and wasting it.