Welcome to Eden Farms Online!
Eden Farms is a small, family-run business located 20 minutes west of Richmond in Goochland County, Virginia. We offer our own brand of high-quality indoor rabbit cages and outdoor hutches, top-fill water bottles and feeders, food, litter, and many different types of toys, organic treats, and accessories for bunnies. We also gift certificates, and ship many of our products in case you live far away (or just don't want to drive). We specialize in low-maintenance indoor and outdoor animal housing, and welcome custom orders. Customers who want to make a purchase can stop by anytime we're open. If you do not want to make a purchase but want to see the Farm anyway, the cost is $15 for a tour that will last about 30 minutes, and you can bring up to seven people. For pricing on larger groups, give us a call!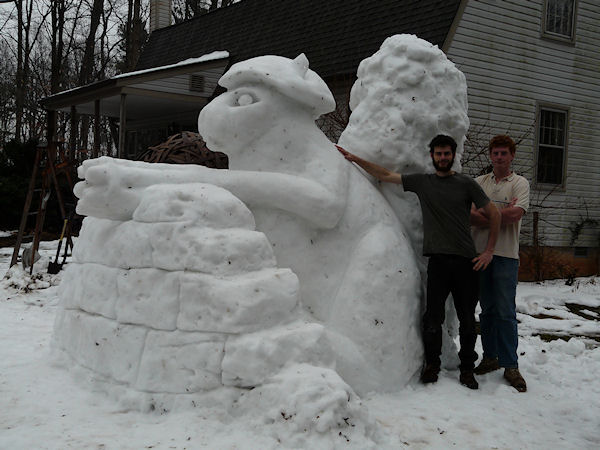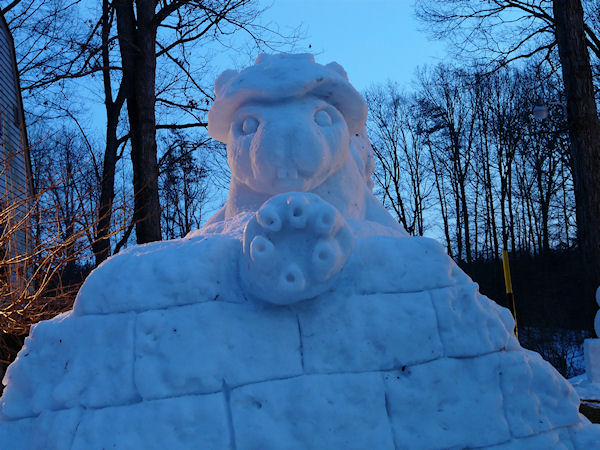 Here's our 2014 snow sculpture: an ice squirrel! He's friendly, as long as you don't try to take his acorns.
Contact us by phone at (804) 556-3377.
Hours of operation are 10:00 AM-8:00 PM Mon-Sat, Sunday
noon-6:00 PM. We are closed only on Christmas day and Easter Sunday.
W
e accept Visa, Mastercard, Discover, Debit, or cash.


Nichole created this 44" long bunny sculpture out of sweetgum balls glued onto a wire frame. We call her "Binx" because she reminds us of the Egyptian Sphinx.

Here is a picture of the latest snow sculpture Cory designed and built. It was an approximately life-size (27.5 feet long) piece of logging equipment called a grapple skidder.

The grapple skidder was 9 feet tall, and took about 30 man-hours to complete. It appeared on various local news shows at least four times. You can see NBC 12's story about Cory's sculpture here.

Cory also built this 14.5 foot tall angel snow sculpture. It took him 2 days!
The angel was featured on the local news.
And here is another previous snow sculpture: a 21.5-foot-long F-15 Eagle fighter jet!